Tabakalera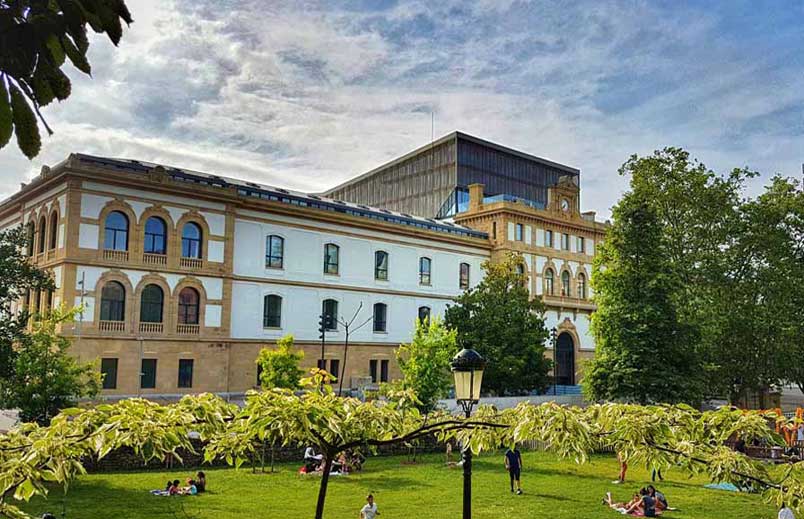 Tabakalera was a tobacco factory until 2003, and reopened its doors in 2015 as an International Centre of Contemporary Culture. Tabakalera breathes culture and its many and varied spaces are ideal to promote it.
The central courtyard, which the huge building surrounds, has an area of 620 m2 suitable for hosting any presentation or event.
The cinema is perfect for film premieres of any kind, and from its roof you can enjoy an exceptional view of the city centre.
For the organisation of meetings, Tabakalera offers Room K, with space for 20 people, and to accommodate congresses it offers Room Z, with a 2000 lumens projector and translation booths.
Room
Natural light
M 2
Height
Capacity
Patio
-
620 m2
10 m
400

Theatre


220

Banquet


220

Clasroom


450

Cocktail

Cinema
-
327 m2
5 m
229

Theatre


229

Clasroom

Room Z
✓
184 m2
5,5 m
120

Theatre


80

Banquet


80

Clasroom


120

Cocktail

Room K
✓
57 m2
4 m
20

Theatre


20

Clasroom


20

Cocktail

Rooftop
✓
330 m2
-
221

Theatre


250

Cocktail

Prism + Terrace
✓
309/139 m2
10 m
200

Theatre


180

Banquet


150

Clasroom


350

Cocktail

Square
✓
492 m2
23/27 m
200

Theatre


180

Banquet


430

Cocktail
Catering: Non-exclusive
Gallery