Location and how to arrive
Strategic, easy-to-access location
One of the most popular routes of arrival for congressmen, congresswomen and attendees is by plane. There are 3 airports less than 100km away from the city.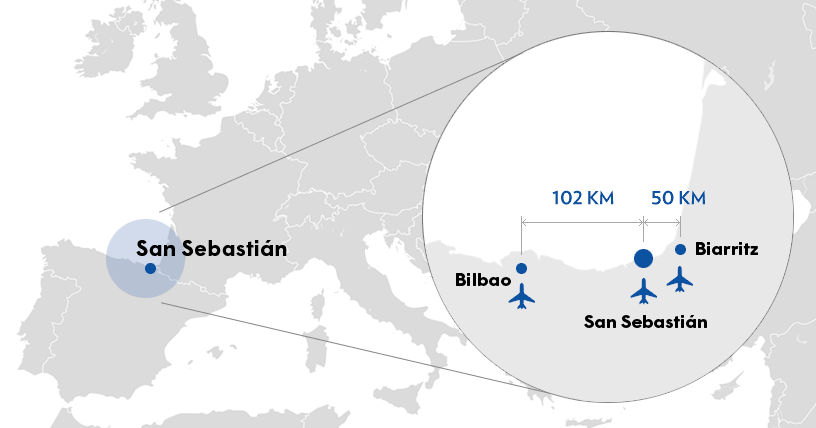 Its strategic location and vast infrastructure network has made San Sebastián an easy-to-access location, connected to the rest of the world via all kinds of transportation.

Nearby cities
| City | Distance in Km. | | | | |
| --- | --- | --- | --- | --- | --- |
| Bilbao | 102 Kms. | 1h 5 min. | 1h 15 min. | 3 h. | - |
| Vitoria-Gasteiz | 101 Kms. | 1h 10 min. | 1h 15 min. | 1h. 40 min. | - |
| Biarritz | 50 Kms. | 45 min. | 1 h. 10 min. | 1h. 40 min. | - |
| Pamplona | 82 Kms. | 55 min. | 1 h. | 1h. 40 min. | - |
| Madrid | 457 Kms. | 4h 35 min. | 5h. 20 min. | 6h. 20 min. | 1h. 15 min. |
| Barcelona | 570 Kms. | 5h 40 min. | 8h. | 5h. 50 min. | 1h. 5 min. |
Main ways of travelling to San Sebastián
By plane
San Sebastián has 3 airports (2 international) within just over 100 km of the city.
Only 20 kilometers from the city centre, San Sebastián Airport has connections to the major Spanish cities; Madrid and Barcelona.
Bilbao Airport, with connections to all Europe, is 105km from the city, and Biarritz Airport, served by French and international low-cost companies, 47km.
---
By train
RENFE
The company RENFE rail service offers both long-distanceo train and suburban
The train station in the centre of San Sebastián, the Estación del Norte, offers connections to numerous Spanish cities including Madrid and Barcelona, and to international destinations such as Paris and Lisbon.
Train journeys to and from San Sebastián will gain enormously in speed with the new Tren de Alta Velocidad (high speed train), due to connect the city with other destinations in the near future.
EUSKO TREN
There is also an underground railway, the Eusko Tren, a narrow-gauge train connection with Bilbao and cities along the Basque Coast, such as Zarautz. The service linking it also Hendaye (France) and the SNCF, french rail service, with Lasarte passing through Donostia. The train is popularly known as the "Topo" or "Mole"
SNCF
The French company SNCF connects with world capitals such as Paris from Hendaye train station..
---
By car
Getting to San Sebastián by car is extremely easy. The city is connected to the rest of Spain and France by the N-1 (the national highway connecting Madrid to Irun), the AP-8 (Bilbao-Irun) and A-63 (Paris-Irun) motorways and the A-15 highway (Pamplona-San Sebastián).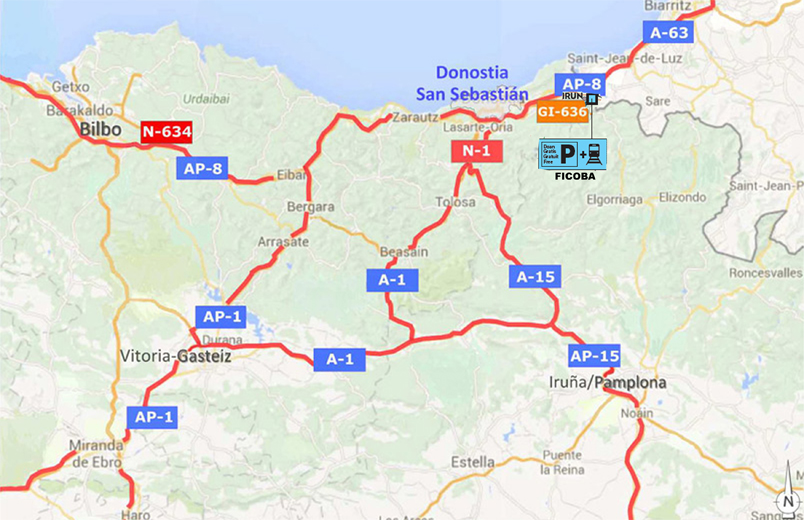 Another comfortable and comfortable way to get to the city is by parking your car in the free parking lot of the Ficoba de Irún Exhibition Center and take the train from Euskotren to the center of San Sebastián. (40 minutes journey).
Once in San Sebastián, you can leave your car in one of the more than 6,000 parking places found in different parts of the city.

Underground pay parkings all around the town
Places available in real time.

Park and Ride free car parks with bus connection to the city centre.

TAO / OTA blue areas
Blue areas where parking is limited by time.