Victoria Eugenia Theatre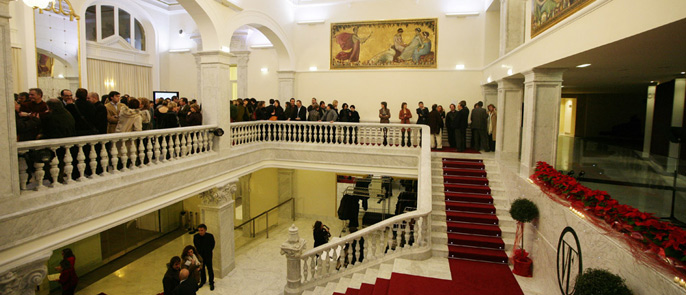 Located in the centre of the city, the Victoria Eugenia Theatre is one of San Sebastian's most emblematic buildings. Full of history, the theatre has hosted the most important cultural events of the city since it opened in 1912.
Completely refurbished in 2007, the theatre has been transformed into an innovative stage space, equipped with the most modern equipment and services, while retaining all of its charm and original features.
It offers the Main Room and the Club Room, as well as several multipurpose rooms to celebrate all kinds of cultural activities or activities related to congresses and meetings.
Room
Natural light
M 2
Height
Capacity
Stage
-
310 m2
-
200

Banquet


350-500

Cocktail

Main Hall
255 m2
-
900

Theatre

Club
-
229 m2
-
120

Theatre


80

Banquet


50

Clasroom


180

Cocktail

Entrance and Lobby
✓
95 m2
-
60

Banquet


60

Clasroom


300

Cocktail

China Room
✓
30 m2
3,5
50 Theatre
30 Clasroom
Dance Studio
✓
210 m2
-
100 Clasroom
Press Room
-
50 m2
-
40 Clasroom
Catering: Non-exclusive
Gallery