Miramar Palace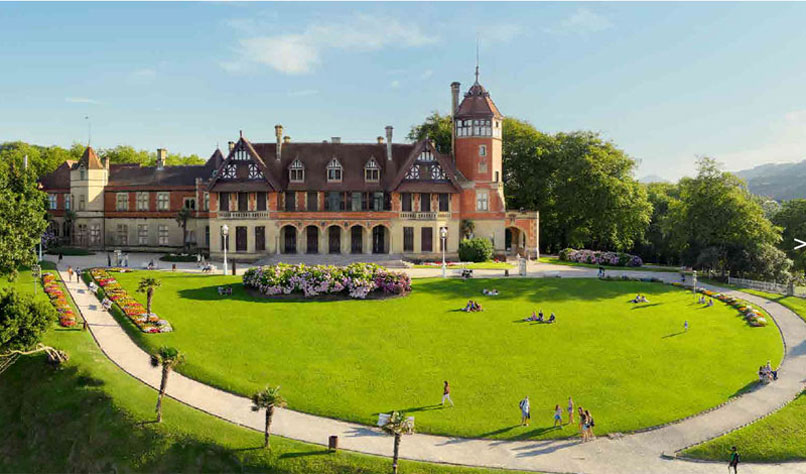 Situated in front of La Concha bay, this ensemble in the style of an English "cottage" is the most outstanding sea-front building in San Sebastian, dividing the beaches of Ondarreta and La Concha.
The Miramar Palace was designed in 1889 by the English architect Selden Wornum, and was built in 1893 by order of the Spanish royalty on its extensive area of land.
Today it is a venue that is open to all kinds of events. In summer it becomes the headquarters of the Summer Courses of the University of the Basque Country, and its interior offers rooms of different sizes for the organising of meetings or congresses. Although it inherits an architectural style from the 19th century, its technological infrastructure is kept right up to date in order to satisfy any need.
Room
Natural light
M 2
Height
Capacity
Julio Caro Baroja Room

✓

180 m2
3,5 m
195

Theatre

Royal Dining Room

✓

115 m2

4,5 m

80

Theatre


100

Banquet


100

Cocktail

Music Room

✓

110 m2
4,5 m
80

Theatre


100

Banquet


120

Cocktail

Santa Clara Room

✓

110 m2
3,1 m
100

Theatre


No

Banquet


No

Cocktail

White Room

✓

85 m2
4,5 m
60

Theatre


80

Banquet


90

Cocktail

Wood Room

✓

80 m2
4,5 m
60

Theatre


80

Banquet


90

Cocktail

Petit Salon

✓

65 m2
4,5 m
50

Theatre


60

Banquet


60

Cocktail

Press Room

✓

60 m2
2,4 m
35

Theatre


No

Banquet


No

Cocktail
Catering: Non-exclusive
Gallery