The Nobel Laureate Albert Fert joins the University of the Basque Country's Faculty of Chemistry in San Sebastián
2020 Feb 10
Albert Fert will be the first Nobel Prize in Physics to join the list of professors at a Spanish university, where he will develop his research and teaching work with the Materials Physics Department of the University of the Basque Country's Faculty of Chemistry in Donostia/San Sebastián.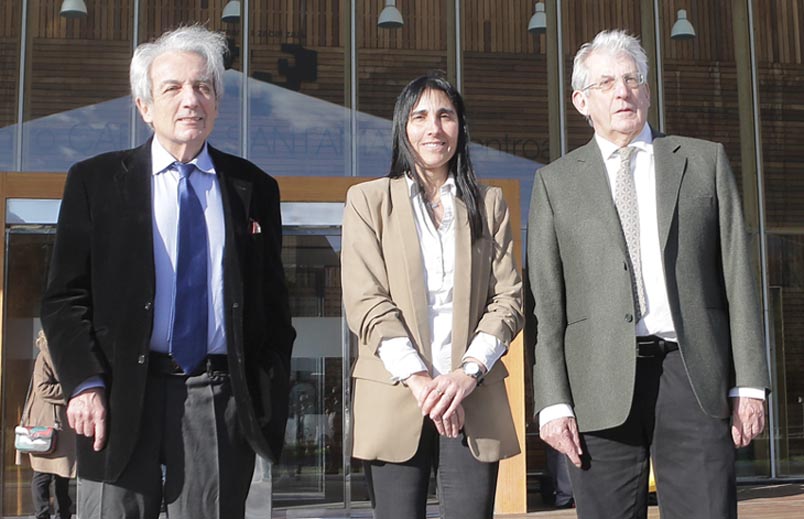 Albert Fert, Nekane Balluerka and Pedro Miguel Etxenike. Photo: Univ. of the Basque Country
The 2007 Nobel Prize in Physics, one of those to discover giant magnetoresistance, a physical effect responsible for revolutionising hard disk technology, will now take up his position as a "Distinguished Research Fellow" at the University of the Basque Country (UPV/EHU).
Albert Fert has been a regular speaker at the Sol-SkyMag International Conference on Magnetism & Spintronics held annually in Donostia/San Sebastián since 2016.
Thanks to this incorporation, the UPV seeks to strengthen its research work, increasing the already existing collaboration between Albert Fert and the University's Group on Magnetism, and to boost studies in new materials with the coexistence of magnetic and topological phases, in different aspects. Furthermore, Albert Fert will also collaborate with the Donostia International Physics Center (DIPC).
---